One Lakeshore Drive - LOCATION
Your address puts you a few minutes away from the best places in Davao City, including the international airport and port, as well as premier business, learning and leisure destinations.
Location Advantage:
Strategically located inside Davao Park District, Megaworld's first township development in Mindanao.
Guided by live-work-play-learn concept, the project is steps away from a mixed use corporate and financial center, office buildings, restaurants, retail shops and learning center.
Near the stretch of J.P. Laurel Avenue , which is minutes away from the Francisco Bangoy International Airport.
A walk away from SM Lanang Premier, the largest shopping mall in Mindanao.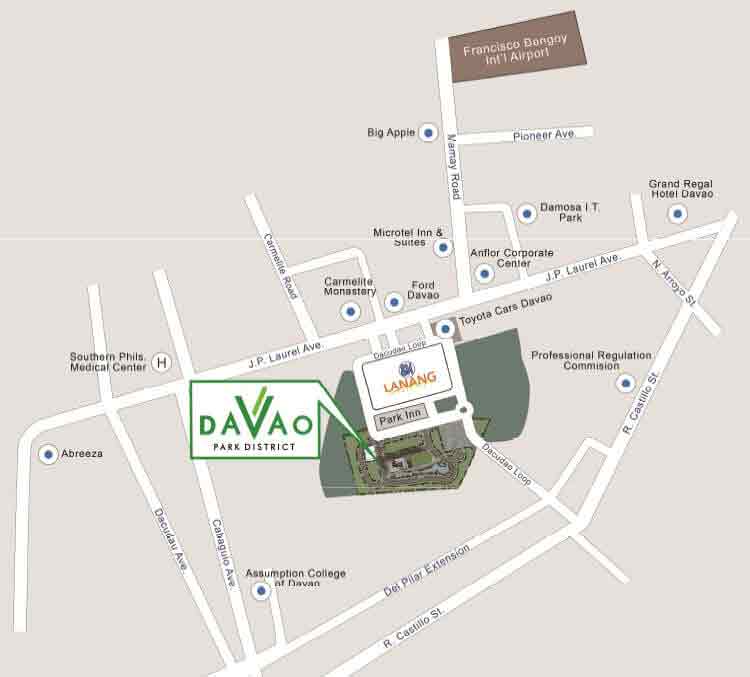 With spectacular views of Mount Apo to the southeast and the sun rising from the Davao Gulf toward the east, One Lakeshore drive is a prime address in the Davao Park District of Lanang, Davao City. Every sort of amenity and convenience is within easy reach, including Francisco Bangoy International Airport, just minutes away. Davao City Business Center is home to many major corporations involved in industry, agriculture and finance. With wide variety of malls, markets and big box stores, shopping for whatever you desire is never far from One Lakeshore Drive.
As the Philippines largest economy outside of Metro Manila, Davao City has grown into a dynamic region hub. The third most populous city in the country and the largest by land area, more than 1.6 million people call Davao City home, according to 2015 figures.
Serving as the island of Mindanao's economic engine and industrial heartland, Davao City is a key exporter of the region's many products, including a wide variety of fruit and fruit-based products that have given the city its informal nickname of the "Fruit Basket of the Philippines."
With Davao Gulf just 2 kilometers from One Lakeshore Drive, there is easy access to various beaches for those days when you want to spend time with friends, family and loved ones by the water.
For all your shopping and recreational needs, SM Lanang Premier Mall, the biggest in Mindanao is just a short walk away from your apartment in One Lakeshore Drive. Other shopping centers within an easy distance from One Lakeshore Drive include:

Chinatown Shopping Center
Victoria Plaza
Gaisano Mall
Damosa Gateway
Robinsons Galleria Davao
A variety of schools, colleges and other educational institutions are also in the area, serving the youngsters in your family. Nearby schools include:

Philippine Nikkei Jin Kai International School
The Abba's Orchard Montessori
Saint Patrick Math Science School
Mindanao Medical Foundation College
Asian International School of Aeronautics
San Pedro College

Any health concerns can be taken care of at the nearby Southern Philippines Medical Center, virtually across the road from One Lakeshore Drive.
For professionals who are looking for a home that is in close proximity to commercial centres, One Lakeshore Drive is the perfect location. The Anflor Business Center, Damosa I.T. Park, the Professional Regulation Commission, just to name a few, are some of the corporate and government offices within easy reach of One Lakeshore Drive, making this development a valuable one for rental properties.

Other nearby attractions:
People's Park
A sprawling city park with visitors center, native plants and sculpture.
Davao Crocodile Park
With wildlife shows and educational exhibits.
Philippine Eagle Center
A conservation center for endangered Philippine eagles, with educational tours that are sure to amaze and delight all the family.
Tribu K Mindanawan Cultural Village
This cultural village features traditional structures which highlight the history of Philippines.
Mont d'Johan Nature Resort
This nature resort is sure to become a favorite choice for a great outing for the whole family.